Tracker Adtarget.me
Conversion tracking and attribution for affiliate marketers, product owners and agencies.
Track, Analyze, Optimize
all digital channels in one tool your way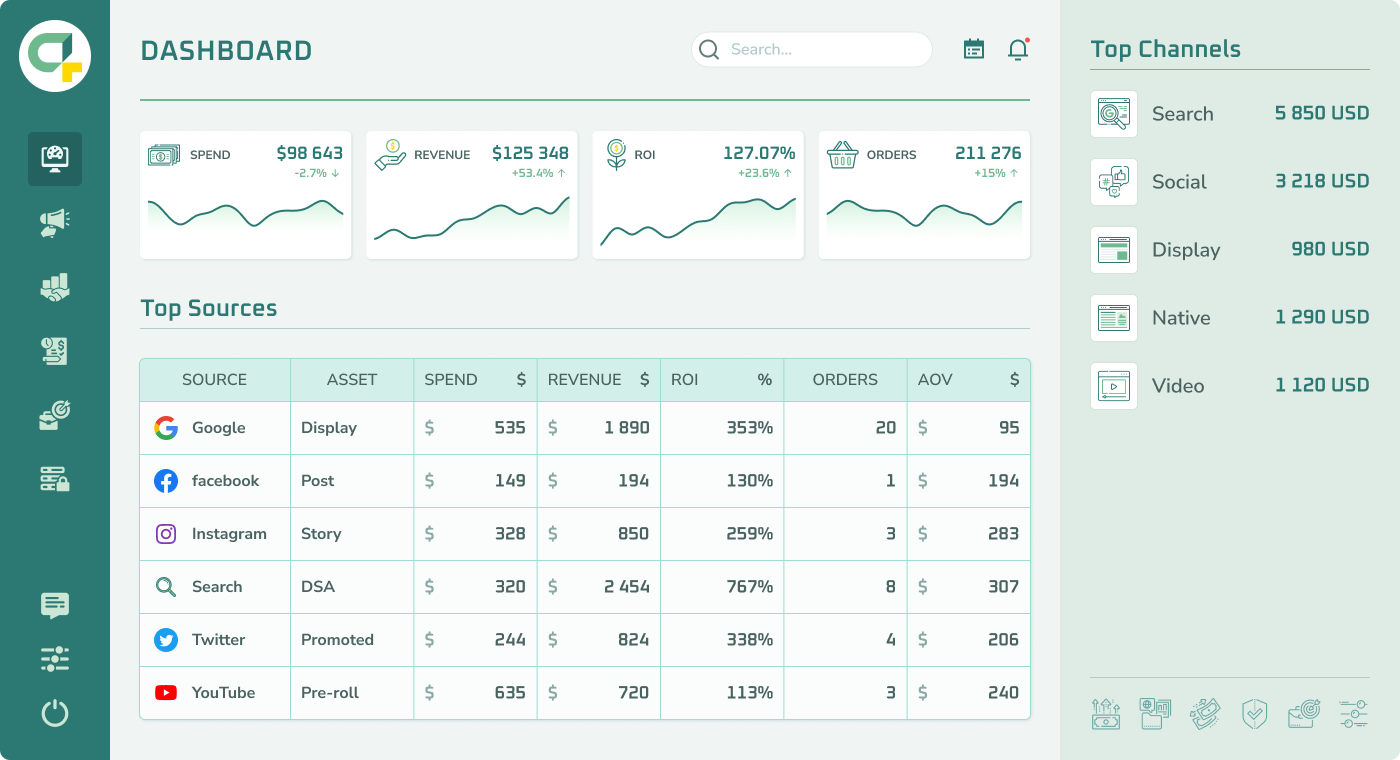 Integrated with top advertising, e‑commerce, and CRM platforms.

See how
---
AdTarget Tracker works for you
Affiliate marketers

Optimizer - earn more with ROAS/Revenue automated optimization
Integrations - eliminate waste with direct optimization of 100+ channels straight from AdTarget
User parameters - track 25+ parameters of every click: device, connection type, carrier, location and more
S2S postbacks - secure way of measuring conversions, easy to set up
Direct tracking / fast redirect - no traffic loss with direct tracking & fast 5ms redirects
Built-in anti-fraud – don't waste your budget on bots
Saved audiences - up-sell & cross-sell with retargeting audiences stored for up to 255 days

Agencies

All-in-one platform - forget about reports in excel and manual data collection – save time and money
Built-in anti-fraud - ensure the best traffic quality
Multiuser workspace - easy to manage teams of your own, clients' and partners'
Custom reports and domains - for every client give exactly what they need
Impression tracking - track not only clicks but all metrics that matter to your clients, including impressions
Multiple attribution models - including post-view attribution
Full API access – integrate AdTarget Tracker with your tech ecosystem

Product owners

Integrations - with Shopping cart and CRM platform for seamless onboarding
All-in-one dashboard - get the holistic view across all paid and owned channels
Unbiased cross-channel attribution - know where your leads are actually coming from
LTV tracking - focus on the most valuable customers
1st and 2nd party audiences – to build retention strategy upon them
Unlimited conversion events - including post-view attribution
Eliminate budget waste!
---
AdTarget can not only track campaigns, but actively optimize them – down to switching off individual activities.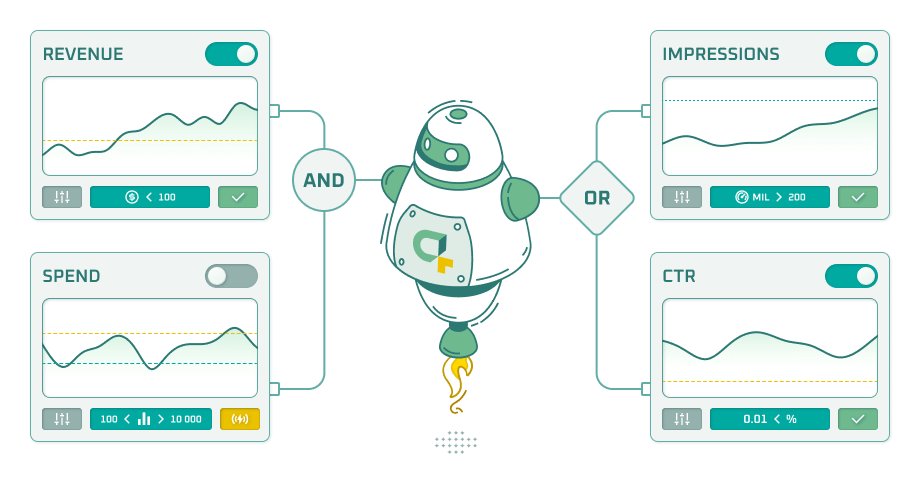 Set your platform and metrics
E-shop, SaaS, MMP, landing pages or offers.
All performance metrics: Calls, Leads, Sales, Installs, Revenue and all other.
Connect traffic sources
Ultimate view on all marketing activities in one ad cabinet. Display ads, Native, Social, Influencers and what not.
Monitor performance
Aggregated view on all channels. Real-time reports.
Get true insights
Proper cross-channel and cross-device attribution. Cookie less tracking.
Optimize
Set automated traffic distribution rules to maximize performance and save time.
Collaborate
Granularly manage access for your teams, partners and clients.
Minimize the number of tools
and launch campaigns faster with hosted landing pages.
---
Use pre-made templates for popular verticals
Support you can rely on
Get things done faster with the help of our experts
24/7 support
1-on-1 onboarding
Dedicated account manager
Choose your pricing plan
---
Tracker basic

180
EUR/month

NO

Multiple manager users

1

Advertiser accounts

YES

Click tracking

2 500 000

clicks included

NO

Impression tracking

NO

impressions included

2

Events

NO

Revenue parameter

NO

Negative revenue

NO

Postbacks

NO

Direct tracking

NO

Antifraud

NO

User role management

NO

User groups, Security groups

NO

API access

NO

Optimizer for traffic distribution

NO

Custom features

NO

White label

NO

Mobile SDK

NO

Manual conversion upload

NO

AT DSP Integration

NO

Ad Network API Integration

Support

Email

Tracker plus

750
EUR/month

YES

Multiple manager users

3

Advertiser accounts

YES

Click tracking

12 500 000

clicks included

YES

Impression tracking

110 000 000

impressions included

5

Events

NO

Revenue parameter

NO

Negative revenue

NO

Postbacks

YES

Direct tracking

YES

Antifraud

NO

User role management

NO

User groups, Security groups

NO

API access

NO

Optimizer for traffic distribution

NO

Custom features

NO

White label

YES

Mobile SDK

NO

Manual conversion upload

NO

AT DSP Integration

NO

Ad Network API Integration

Support

Email, Issues

Tracker pro

3 200
EUR/month

YES

Multiple manager users

10

Advertiser accounts

YES

Click tracking

105 000 000

clicks included

YES

Impression tracking

500 000 000

impressions included

10

Events

YES

Revenue parameter

YES

Negative revenue

YES

Postbacks

YES

Direct tracking

YES

Antifraud

NO

User role management

1

User groups, Security groups

YES

API access

YES

Optimizer for traffic distribution

NO

Custom features

NO

White label

YES

Mobile SDK

NO

Manual conversion upload

YES

AT DSP Integration

NO

Ad Network API Integration

Support

Email, Issues, Phone/Chat

Tracker enterprise

4 500
EUR/month

YES

Multiple manager users

30

Advertiser accounts

YES

Click tracking

200 000 000

clicks included

YES

Impression tracking

1 300 000 000

impressions included

Unlimited

Events

YES

Revenue parameter

YES

Negative revenue

YES

Postbacks

YES

Direct tracking

YES

Antifraud

YES

User role management

3

User groups, Security groups

YES

API access

YES

Optimizer for traffic distribution

YES

Custom features

YES

White label

YES

Mobile SDK

YES

Manual conversion upload

YES

AT DSP Integration

YES

Ad Network API Integration

Support

Top priority:
Email, Issues, Phone/Chat

Tracker Ultimate

6 700
EUR/month

YES

Multiple manager users

100

Advertiser accounts

YES

Click tracking

300 000 000

clicks included

YES

Impression tracking

2 000 000 000

impressions included

Unlimited

Events

YES

Revenue parameter

YES

Negative revenue

YES

Postbacks

YES

Direct tracking

YES

Antifraud

YES

User role management

100

User groups, Security groups

YES

API access

YES

Optimizer for traffic distribution

YES

Custom features

YES

White label

YES

Mobile SDK

YES

Manual conversion upload

YES

AT DSP Integration

YES

Ad Network API Integration

Support

Top priority:
Email, Issues, Phone/Chat